Pico Neo 2 Eye
All-in-one Standalone Enterprise VR Headset
Powerful. Intuitive. Insightful
Start to develop today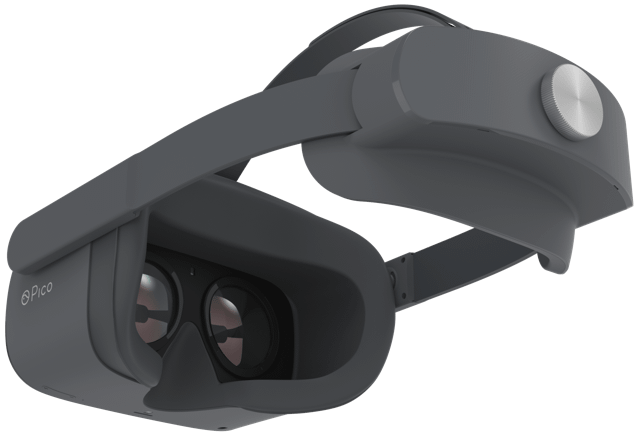 Native eye tracking on a versatile standalone VR headset for enterprises
Integrated with Tobii's world leading eye tracking technology, Neo 2 Eye helps enterprises gain a deeper understanding of customer behavior, enhance training efficiency, improve productivity and safety at work, and much more.
Improved graphics, longer battery life.

Powered by Tobii Spotlight Technology ™, dynamic foveated rendering on the Neo 2 Eye increases framerates by up to 66% and reduces shading loads by up to 72%*, leading to higher quality visuals and more efficient performance.

Actionable insights, improved decision making.

The Neo 2 Eye can provide immediate and actionable insights into human behavior in controlled environments, such as training and assessment, simulation, knowledge and skills transfer, as well as consumer research. Such insights support data-driven business decisions.

Immersive and intuitive.

 With Tobii eye tracking, gaze becomes a natural form of input for the device making even simple interactions such as menu navigation and selection feel seamless and responsive. Additionally, eye tracking technology can enhance social interaction in virtual meetings and environments, leading to increased immersion and providing a true sense of presence.

One device fits all.

Tobii's integrated eye-tracking solution ensures that Neo 2 Eye works for the widest possible population of users, including people with glasses and contact lens, different eye types and conditions.
* Data from the benchmarking test based on dynamic foveated rendering enabled by Tobii Spotlight Technology in Spot's Apartment and conducted on Pico Neo 2 Eye.
Ergonomics
Front HMD and rear battery form a reasonable face pressure from wearing.
Rotatable headband to facilitate eye glasses user wearing.
Adjustable and adaptive top band for different head size​.
The removable and washable microfiber cloth foam.
Interactive
3rd gen Inside-out 6DOF Head and Guardian System​
Dual 360° 6DOF haptic Controllers​
Eye Tracking ​
Voice command​
Buttons(Confirm/Back/Home/Volume up&down/Power)+ 3 color Led
Sensors
IMU 9 axis
Proximity sensor
Audio
Integrated Spatial stereo speaker
Dual Mic EC/NR, 3.5mm Jack​
Connections
USB-C 3.0 Extendable 3.5mm Power DC Jack
Eye Tracking Specifications
Gaze data output frequency (binocular)
90Hz
Calibration
5-point calibration
Eye Tracking Interface
Pico SDK
Data output (eye tracking data) *
Gaze direction (combined)
Gaze origin (combined)
Position guide
Ideal accuracy for eye rotation
0.5 degrees
Gaze angles
25° left/right/down and 20° up
SDK engine compatibility
Unity – Via Pico SDK
Unreal – Via Pico SDK
Tobii XR SDK
* Eye tracking data is available through Qualcomm's API.
Develop New Experiences for the Pico Neo 2 Eye
Pico Neo 2 Eye is the world's first commercial standalone VR headset with native eye tracking. It combines the benefits of Tobii eye tracking with smart design choices and the power of Qualcomm's Snapdragon 845 chipset, resulting in a comfortable, powerful and user-friendly device.
Neo 2 Eye is compatible with the Tobii XR Unity SDK, enabling developers a quick ramp up to integrate eye tracking seamlessly into their VR experiences.
Start to develop today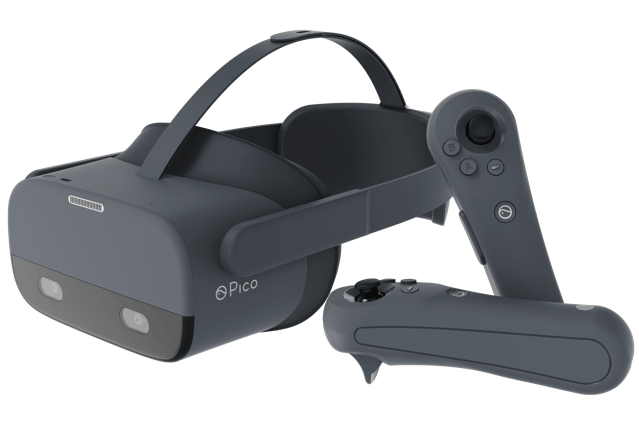 "Eye-tracking company Tobii's new foveated rendering technology can change the way we look at virtual reality forever."
— PC Mag

"A second version, the Neo 2 Eye, features eye tracking and foveated rendering capabilities courtesy of Tobii, the go-to supplier of eye tracking sensors and analytics technologies for VR."
"I actually had a chance to see the difference for myself up at Tobii's suite at CES where it showed me a demo of a scene with foveated rendering turned on and off. The difference was staggering."
— Forbes